Faux Wood Blinds in Las Vegas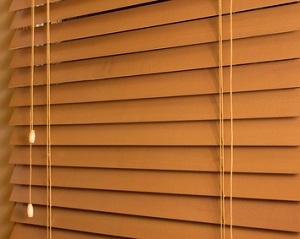 Trying to decide if faux wood blinds are right for you? Making choices about your window treatments is not usually as easy as you would first assume. In order to make just the right decision it is about knowing your options and being able to weight out the pros and cons. Whether it's real wood blinds or faux wood blinds in Las Vegas, you can trust our team to provide you with the information and design consultation you need - for free!
Nevada Shutters & Blinds is the only name that you need to know in order to make the right decision. Having experience dating back to 1997, this company became official in 2000 and has been providing the best in exceptional service ever since. It certainly is never easy to make a choice about which window coverings you want to live with for years to come.
We take great pride in all the work that we do, including being there to answer questions for our clients. We are known for providing quality service and materials to all of our clients. We only employ quality installers and you can expect hands on service even after the installation work is completed.
Las Vegas Faux Wood Blind Specialists
Probably the most common question we get about faux wood blinds in Las Vegas is what makes them a better option than real wood? The truth of the matter is that both alternatives are an ideal choice to make. However, since they each have their own unique traits, here is a few of the pros of the imitation wood option:
Cost-effective – Since you are not using real wood, that makes this option more cost-effective. This is important for anyone on a stricter budget. However, it is also important to note that this alternative will not add quite the same increase in property value to your home. So if you are looking for a smart investment that will enhance the property value, you may want to stick with real wood.
More color choices – This is also a great way to go if you want a wide variety of wood grains, color choices or upgrades. However, these will lack the one of a kind uniqueness that real wood has. Since they are mass produced as opposed to cut from real wood, you lose the "no two are the same" appeal.
Easier to care for – Both real and faux wood are cleaned with simple wipe down, real wood requires a little more care. In order to preserve the look and condition of real wood, there are additional cleaning steps and cleaning agents that should be used.
Ideal for even humid spaces – One of the downfalls of real wood is that it does not hold up against moisture or humidity very well. That means real wood should not be used in rooms such as bathrooms or even smaller kitchen spaces. Don't give up the wood look you want in these rooms, just opt for the fake alternative that will not warp or rot in damp conditions.
Faux Wood Blinds in Las Vegas, NV
Nevada Shutters & Blinds is the only name that you need to know when it comes to your window treatments in Las Vegas, including faux wood blinds. Let us meet with you and share with you the benefits you can expect to enjoy from this option. Call today in order to get started by letting us set up your free consultation with one of our Las Vegas window blinds experts.
If you are interested in an estimate for faux wood blinds in Las Vegas or the surrounding areas, please call 702-524-2211 or complete our online request form.
Latest Window Coverings Articles
Reasons to Get Shutters for Your Las Vegas Home
Are you in the market to get new window coverings for your Las Vegas area home? If you are, then you might want to consider getting window shutters. Why should you consider shutters over the many other great window-covering options? Window shutters offer a range of excellent benefits for both you and your Las Vegas...
Read More
How to Pick the Right Window Treatments for Your Las Vegas Home
Selecting the right window treatment is all about finding what works for you, both functionally and for the visual aesthetics of your Las Vegas home. Some homeowners go with the same uniform look throughout the entire house. However, a more popular approach is to pick just the right window dressing for each individual room. This...
Read More