Woven Wood Shades in Las Vegas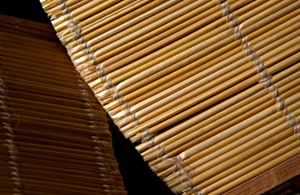 There are few options for window treatments quite as stunning as woven wood shades in Las Vegas. These window shades are hand woven using a variety of options for materials. Some of the common choices are grasses, reeds, hemp, jute and more.
Nevada Shutters & Blinds is the local leading service provider for this type of option for window treatments in Las Vegas. All you have to do is take one look at the shades and you will quickly realize what makes it so popular. This earthy alternative to man made, manufactured materials is complimentary with the sunlight filtering through.
Not to mention, this works well with a side variety of styles and looks. Another added bonus is that it looks good from bother inside and outside your home. So woven woods work well with your interior design aesthetically, as well as your exterior curb appeal.
Las Vegas Woven Wood Shade Experts
One thing that makes woven wood shades so popular in the Las Vegas area is that they are made from renewable resources. They also happen to look and feel exotic, elegant and natural at the same time too. So what are some other reasons this is such a great choice?
They can be paired with a liner or curtains and provide complete UV protection and darkness. Keep in mind, depending on the weave, most woven shades do allow a fair amount of light to filter through.
Although earth tones are the most common and most popular, you do have color options as well. You can find woven wood shades in reds and blues, plus other shades.
You also have choices for operating styles, such as bottom-up / top down roller shades. Working with a true industry expert will provide you with the information and selection needed to make the best choice possible.
Nevada Shutters & Blinds can provide you with the information that you need and help you make the best choices for your home or commercial space. One thing is for sure, you can bet that you are going to love the final look once we professionally install your new shades. This can literally create as much of a transformation as having your rooms remodeled. Call today to get a free estimate and design consultation with one of our window coverings specialists.
The Source for Woven Wood Shades in Las Vegas
Nevada Shutters & Blinds will work with you to show you the choices that you have and take measurements. When you want the best in customized woven wood shades in Las Vegas, NV or the surrounding areas, we have got you covered. Don't take chances when it comes to the quality of work that goes into your residential or commercial space.
We take great pride in all the work that we do and that shows in the results that we are able to get for each client. Get in touch with us today so that we can begin working on your space. You are going to love the new look of your home or office and that is something that we can guarantee. We are the source for Las Vegas shutters, blinds, and shades.
If you are interested in an estimate for woven wood shades in Las Vegas or the surrounding areas, please call 702-524-2211 or complete our online request form.
Latest Window Coverings Articles
Reasons to Get Shutters for Your Las Vegas Home
Are you in the market to get new window coverings for your Las Vegas area home? If you are, then you might want to consider getting window shutters. Why should you consider shutters over the many other great window-covering options? Window shutters offer a range of excellent benefits for both you and your Las Vegas...
Read More
How to Pick the Right Window Treatments for Your Las Vegas Home
Selecting the right window treatment is all about finding what works for you, both functionally and for the visual aesthetics of your Las Vegas home. Some homeowners go with the same uniform look throughout the entire house. However, a more popular approach is to pick just the right window dressing for each individual room. This...
Read More