Classic Plantation Shutters in Las Vegas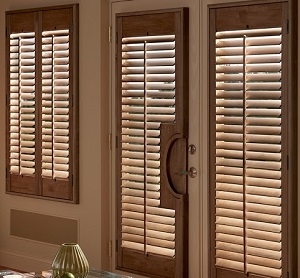 Helping make sure that your window treatments look perfect starts with getting the right team to take care of your Las Vegas shutters company service needs. Since 2000, Nevada Shutters & Blinds has been the preferred name that local residential and commercial clients rely on to get the job done. Yet the experience behind our company actually dates back a fee years prior to that in 1997.
It goes without saying that we take this line of work seriously and that is evident from the results that we are able to get with every job that we take on. Your window treatments do more than just make your home look amazing, it helps in a variety of other ways too. So it is essential to know more about the options that you have and make sure that you make the best decision for your individual situation.
One reason shutters are the preferred choice in the Las Vegas area is that, aside from looking stunning, they provide the best in light control. Using your louver control, you can determine how much or how little light is allowed in. Plus, this is also what enables you to retain as much privacy as you want.
Las Vegas Shutter Installation Experts
Some of the options that you will have to consider, when it comes to choosing your Plantation shutters in Las Vegas would be:
The size of your window which we will take custom measurements for
Options for wood types
Assortment of stains and colors
We can also take into consideration angles and arches which get ignored with generic window coverings
The bottom line is that whatever type of shutters you choose from Nevada Shutters & Blinds you can rest assured it will be the best in top level quality. The whole point of tackling this type of project is to leave you with window treatments that you can love for years to come. Don't settle for less than the best when it comes to the products or workmanship invested into your window coverings. From classic wood shutters to durable polycore shutters, we have a top rated selection of quality window shutters in Las Vegas that are sure to impress.
We care as much about the quality and final outcome for your treatments as you do. We also believe that going above and beyond should be the industry standard and not the exception. Get in touch with us now and let's start reviewing the options that you have available to you.
It all begins with us providing you with a free in-house estimate. From there we can show you options that you have for wood types and colors. The best part about using wood is that no two shutters are alike so you can feel confident that you are getting one of a kind, custom shutters for your home or business.
Plantation Shutters in Las Vegas at Unbeatable Prices
How will you know if shutters are right for your unique situation? There are plenty of factors that come into the picture when you are trying to make a decision about your window treatments in Las Vegas. Looks, budget and lifestyle are among the top reasons you may choose one window covering over another.
Don't keep putting offer getting the shutters you want and need for your home or office. The sooner we can get started working with you, the sooner you can have those quality window coverings in place. Even if it means you end up opting for something other than Las Vegas shutters for your home or business, you will feel confident about the choice that you ultimately make.
If you are interested in an estimate for wood plantation shutters in Las Vegas or the surrounding areas, please call 702-524-2211 or complete our online request form.
Latest Window Coverings Articles
Reasons to Get Shutters for Your Las Vegas Home
Are you in the market to get new window coverings for your Las Vegas area home? If you are, then you might want to consider getting window shutters. Why should you consider shutters over the many other great window-covering options? Window shutters offer a range of excellent benefits for both you and your Las Vegas...
Read More
How to Pick the Right Window Treatments for Your Las Vegas Home
Selecting the right window treatment is all about finding what works for you, both functionally and for the visual aesthetics of your Las Vegas home. Some homeowners go with the same uniform look throughout the entire house. However, a more popular approach is to pick just the right window dressing for each individual room. This...
Read More