Window Shades in Las Vegas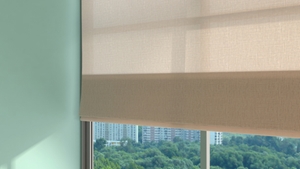 One of the first things to know about shades in Las Vegas is that there are several different types to choose from. That makes this area of window treatments quite diverse. This is also why it is essential to make it a point to only work with someone with the knowledge and expertise needed to help you understand the options that you have.
So, it only makes sense, this is why so many homeowners opt to work with Nevada Shutters & Blinds to get the job done. We take this line of work seriously and that is evident in the final outcome that we get for our clients. Not to mention, this is how we have earned and retained the solid reputation that we have and earned the high rate of repeat and referral business we have.
Don't take chances with who you choose to work with for your window covering project. Also, don't settle for less than the best when it comes to this type of work. We can show you in person what makes us the number one choice for this type of work.
Las Vegas Shade Installation Pros
Shades and blinds tend to get confused yet they each have their own distinct traits. Generally, window shades roll up and down or fold up in a stacking formation. When open, they create a flat surface. They are also available in a variety of materials, such as fabric for Roman shades and wood for woven wood shades.
So what makes these Las Vegas window treatments such a good idea?
Cost-effective – This is one of the most cost-effective options out there and you can even upgrade for relatively less than other types of window coverings. You can get solid colors, patterns or prints all for reasonable pricing. There are roller shades, cellular shades, woven wood shades - not to mention a variety of other window treatments, like shutters and blinds in a variety of materials and styles. However, before opting for whatever choice you think you want, make sure that you keep in mind that this look will impact both the interior and the exterior of your home or commercial space – so pick wisely.
Simple yet elegant – It is nice to incorporate such effortless elegance without making things too sophisticated. The light, sheer options help keep things earthy and elegant by allowing light to spill through as opposed to creating a black out effect.
Roman Shades
Roman shades can add a real sense of style to any home. These classic designs are practical and stylish. The best thing about roman shades is they can be made with so many different fabrics. We have many samples or we can match the colors in an existing room for a real designer look.
Our Roman shades come in a large variety of styles, pleats, colors, fabrics and textures, and are available for any size window.
The Preferred Company for Window Shades in Las Vegas
Nevada Shutters & Blinds can help you get the results that you want by ensuring that you understand the choices available. How can you make the best decisions about your window coverings without fully understanding what is available? From Las Vegas shutters to motorized blinds and window shades, our company has it all. Be sure to check out our other options for window shades, too, such as our honeycomb shades, verticle cell shades, woven wood shades and more. Give us a call today and let's help you determine if shades would be right for your Las Vegas home or business.
If you are interested in an estimate for window shades in Las Vegas or the surrounding areas, please call 702-524-2211 or complete our online request form.
Latest Window Coverings Articles
Reasons to Get Shutters for Your Las Vegas Home
Are you in the market to get new window coverings for your Las Vegas area home? If you are, then you might want to consider getting window shutters. Why should you consider shutters over the many other great window-covering options? Window shutters offer a range of excellent benefits for both you and your Las Vegas...
Read More
How to Pick the Right Window Treatments for Your Las Vegas Home
Selecting the right window treatment is all about finding what works for you, both functionally and for the visual aesthetics of your Las Vegas home. Some homeowners go with the same uniform look throughout the entire house. However, a more popular approach is to pick just the right window dressing for each individual room. This...
Read More