Window Treatment Motorization in Las Vegas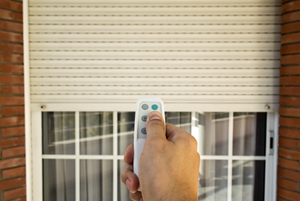 Being able to incorporate window treatment motorization into your home or business is a wonderful technology to have. Working with the expert crew at Nevada Shutters & Blinds in order to make that happen is the best approach to take. This is because we have the training, skills and experience needed to get the job done. There's a reason we're the preferred local choice for window treatment motorization in Las Vegas - give us a call to experience our first class customer service and superior products for yourself!
There are plenty of reasons why this is a great system and once you use it, you will completely understand. Not to mention, there are benefits to having this system over non-motorized ones. Our job is to help you understand all of this information, as well as provide you with the service work you need done.
We provide free estimates, design consultation and installation services for motorized shades, shutters and window blinds in Las Vegas. This makes it possible for you to rely on us for all of your window coverings. Not to mention, we also focus on offering only the finest in customer care as well.
Las Vegas Window Treatment Motorization Experts
If you were wondering what some of the reasons are that motorized window treatments is the best way to go, here are some things that you should know:
This service is quickly becoming one of the more preferred and requested ones. This really is the wave of the future. If you opt out now, you will find your home quickly seems outdated.
It is convenient. With the push of a button you can lower, raise and adjust your blinds or shades.
This is a safer approach to window coverings because you don't have the exposed cord to worry about. Cords can be safety hazards for small children and pets so take the potential threat out of the equation.
It will increase the property value of your home. As this approach to window treatments becomes the norm, you need to make the switch so your home is also maximizing the property value potential.
You will have the ability to control your window treatments with the push of a button from your smart phone, tablet or handheld remote control. This can also give you the ability to change position from the top or the bottom which is ideal for light control and privacy. Call us today to get started.
Our service includes motorized blinds, motorized shades, and motorized shutters. Call today to schedule your free consultation and estimate to learn more about our services and options for automated window treatments in Las Vegas.
Professional Window Treatment Motorization in Las Vegas
Nevada Shutters & Blinds is the only name that you need to know in order to get automated shades, window blinds, and shutters in Las Vegas. Since 2000, we have been the name that locals know to call on for all of their window covering needs, including Window Treatment Motorization. Now, we look forward to working with you starting with a free consultation.
We can work with any type of design layout and style choice. From classic to modern and anything in between. So give us a call today and let us get started with your window covering project.
If you are interested in an estimate for window treatment motorization in Las Vegas or the surrounding areas, please call 702-524-2211 or complete our online request form.
Latest Window Coverings Articles
Reasons to Get Shutters for Your Las Vegas Home
Are you in the market to get new window coverings for your Las Vegas area home? If you are, then you might want to consider getting window shutters. Why should you consider shutters over the many other great window-covering options? Window shutters offer a range of excellent benefits for both you and your Las Vegas...
Read More
How to Pick the Right Window Treatments for Your Las Vegas Home
Selecting the right window treatment is all about finding what works for you, both functionally and for the visual aesthetics of your Las Vegas home. Some homeowners go with the same uniform look throughout the entire house. However, a more popular approach is to pick just the right window dressing for each individual room. This...
Read More