Alternatives to Wood Window Treatments in Las Vegas
---
---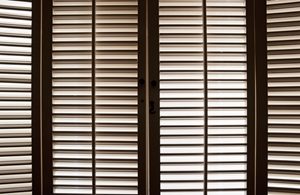 Nothing quite compliments the look of a home-like real wood for furniture, flooring, and even window treatments in Las Vegas. Yet you may quickly learn that, while remodeling your Las Vegas home, wood is not usually the most cost-effective alternative. Wood looks stunning and does help increase the property value of your home but there are also options to choose from aside from real wood.
Before making any decisions about your home, and the window coverings you want, it is essential to know more about the options that you have. How can you make the best choice without knowing more about the choices that you have available? Opting for something other than wood can help you stretch your window covering budget that much further.
What You Should Know About Your Las Vegas Window Treatment Options
So you have decided that real wood is out of your price range. Or maybe you feel strongly against using wood for products that would deplete the forests. You may have any number of reasons to want to steer clear of real wood, the important thing is knowing what you could opt for instead.
Polycore Shutters – Polycore shutters are a perfectly acceptable alternative to real wood plantation shutters. In fact, they are constructed of such high-quality, man-made materials that they are more durable than real wood. The best part is that they can look like the real deal but for a lot less of an upfront financial investment. Plus, they are scratch and moisture resistant which makes them more versatile for use throughout your home when compared to wood shutters.
Faux Wood Blinds – You want the look of stunning wood blinds without the high price tag, which is where faux bois comes into the picture. These are also ideal in spaces where real wood would warp or rot due to moisture and humidity. While this option may not increase your property value as much as the imitation version, it will look beautiful enough to work for you.
Woven Wood Shades – While still utilizing wood, this is a more cost-effective wood alternative. These shades can be made from a variety of materials including reeds, jute, and even hemp. They provide an earthy element that can spruce up a casual room or soften an otherwise sophisticated one.
Window Treatments in Las Vegas: Working with Pros
By making it a point to work with Nevada Shutters & Blinds, you can rest assured that you get the expert level of service that you deserve. We have been taking care of residential and commercial clients since 2000, providing the best in Las Vegas shutters, shades, and window blinds both wood and alternative materials. This means making it a point to offer each client the individual attention they need to fully understand the options available.
The important thing is to know that you do have options for window treatments in Las Vegas aside from real wood. Let us review this with you during your free estimate consultation. We look forward to helping you achieve the window covering look you want, at a price that is kind to your budget.
If you are looking for a Las Vegas window treatments expert then please call 702-524-2211 or complete our online request form.